Hi all! It has been a dull week here again but I'm feeling much better!! Thanks for all the Get Well wishes...means a lot to me!
First thing....I have got to tell you all about my new Towel Crane! I love it! It was made by
Carol
and her hubby of Firecrackerkid Primitives! Make sure you visit her blog and she is also on etsy under the id of firecrackerkid. Carol and her hubby make awesome bowl racks, book shelves, rolling pin racks and just a whole bunch of other wonderful items!! Carol is a sweetheart! I don't have this up on my wall yet as I need to get that kitchen painted. I know, I have been talking about doing that for a long time now. Hey, I did get the wallpaper border off, that's a start...ha!!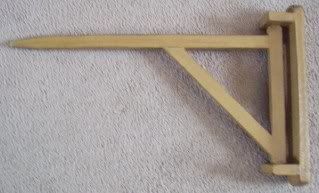 I have also taken some pictures of my "so-called" Christmas decorating...ha! I am no good when it comes to putting groups of stuff together. I usually just have one thing there and one thing here and one thing way over there!!
Picture of tree during one of the few times that Spaz the cat isn't around!!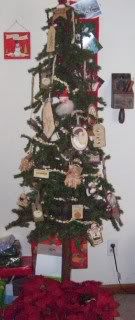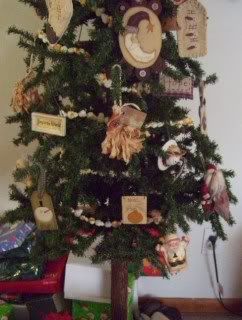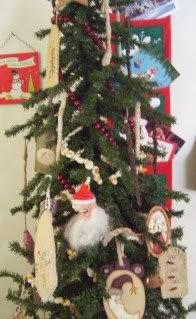 Picture of scene on top of my writing desk
A corner of a bunch of stuff. Usually the greens and berries aren't there...Spaz the cat likes to drag them off.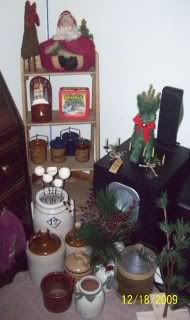 On top of bookcase and on wall
My sink cover that hubby made me quite a few months ago
My hutch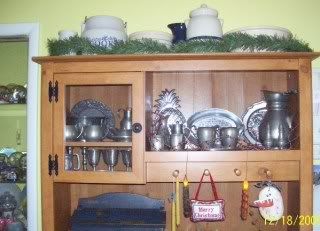 And the rack with my vintage Christmas aprons hanging from it
And that's it for pictures!
Short week this week. Lots of stuff to do. I hope you all have a Very Merry Christmas! Stay safe and warm and make lots of memories!!
Until next time!