Hope everyone had a great Christmas!! Here it was totally not normal! Mother Nature decided to give us a snowstorm with blizzard conditions. I'm sure there were lots of Family gatherings canceled which also included it being with my whole family. Christmas eve we were to go to my hubby's family Christmas but due to the weather we couldn't make it into Omaha. Christmas day my mom and her boyfriend lost power in the small town where they live. Her boyfriend has a 4-wheel drive truck so they finally decided to make the drive to my house. They ended up staying the night and most of Saturday morning. We later found out that their power was turned on about an hour after they left their house. Oh well, we had a good night watching movies and eating! Saturday afternoon, hubby and I were able to make it to the casino but didn't win...lol. It was a fun day though. Sunday was supposed to my mom's Christmas with all my sister's and their families but they live in Grand Island and wasn't able to make it so mom cancelled that and we will be having it this coming Sunday. Normally after mom's Christmas, hubby and I have ours with my kids. My 2 sons were able to make it but my daughter and grandson weren't able to make it, they live in Grand Island also. This was the first Christmas ever that she wasn't able to spend with us so we were both pretty sad about that. And she has to work this coming Sunday so we won't be able to see her at my mom's either. Here are some pictures of our back patio. Haven't even attempted to do any shoveling back there. Don't mind the cigarette butts, hubby just throws them into the snow pile..lol.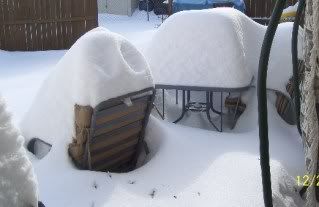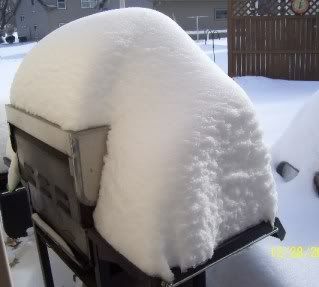 Lot's of snow is pretty much the story around here. I have been staying in the house as my car doesn't travel on snow or ice very well at all! I have a mustang and it's pretty lightweight. I have some sandbags in the trunk but it doesn't help any. I've been doing quite a bit of stitching and cross-stitching but haven't gotten anything totally completed yet.
Well that's all the news that I have. Been pretty quiet. No makeovers as it's too cold in the garage to do any sanding or painting. My new computer just came by Fedex but it's so cold, I'll wait for it to warm up. It's just a new CPU unit. It's one of those new ones by Dell and it's called a "Zino". No more tower, it's just an 8 x 8 box that sits next to the monitor. It has Windows 7 on it so I'm excited to get on it and play. I have to transfer all my programs from the old tower to this new box though first.
Ok, now that's all...lol!! I hope everyone has a super Happy New Year and also a safe one! Stay warm!!