Hello friends! Yes, I've been bad and haven't posted lately! There just hasn't been much going on in my life and I really hate to bore you all!!
Hope the New Year has gotten off to a good start for you all. No resolutions made here because I'm sure they would have been broken by now!
It's still cold and we still have lots and lots of snow on the ground. We are supposed to get into the high 30's and low 40's for the weekend and beginning of next week..YAY!! BUT.....the Almanac predicts a big storm around the 20th so it's wait and see...no other choice right? LOL!
My cat Spaz and I did suffer an injury a couple of weeks ago. I was sewing on the machine and she decided she liked how the needle was going up and down. Next thing I know, the needle is stuck in her paw...she's thrashing around and yelping trying to get loose, so dummy me tries to grab her head so I can hold her down to help get the foot loose, well she bit me! And I do mean she bit me. Clear through my thumb. I have an entrance hole and an exit hole...lol! Still sore yet today but it's been itching a lot so I know it's healing. Oh.....she was fine after about an hour. She got herself loose as I was trying to keep blood from getting on the item that I was sewing.
We were finally able to have Christmas with my daughter and grandson last Sunday. We made the drive to her place in Grand Island. Here are some pictures of my grandson Landon opening and playing with his presents. Also got a new picture of hubby and I taken also. Have pictures of the daughter also but she warned me not to post them. She hadn't been awake for very long...lol.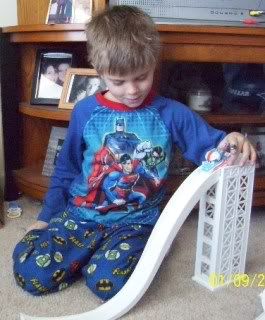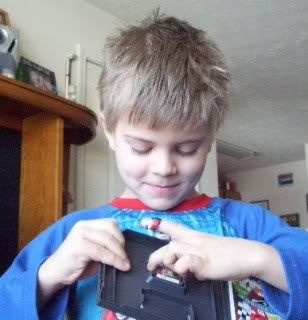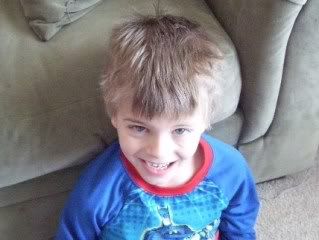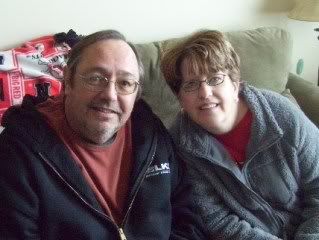 I have gotten some more stitcheries and pinkeeps done. They are listed on eBay right now. You can click on the ebay button to right if you wish to look at them.
Well that's all I can think of for now. Hope you all have a great rest of the week and weekend!!