Got your attention didn't I?? LOL!! I do have some shocking news though. Remember wayyyyyy back when I posted about painting my kitchen? Well that has happened..lol! I don't care for the color as much as I thought I would, but it's staying! No pictures yet as I don't have anything hung up. I bought some new curtains and coffee stained them and they are now hanging up but now my kitchen is pretty dark so not sure if they are gonna stay. I still want to do the cabinets and get a new floor. I also have a new backsplash that's going to be put up also. Hopefully that will be soon. My neighbor is going to do that as I helped him clean 4 apartments last week so he could get them done so he is going to do the backsplash for free! Love that free labor...ha!! So anyway, painting and helping him has been keeping me busy. I also have to show you what he made up for me in about 10 minutes one day using leftover wood that he used to build a window screen...I love it! Idea taken from The Pickled Pepper Patch.
And then here is a picture of it with all the other things hanging on that side of the wall. I don't really care for the display but that will be changed once I start painting that room...and I'm not even going to say when that will be...ha!!
I haven't been doing any stitching at all. I really need to get busy with that.
I also have new pictures of my 2 sons. My daughter wasn't here so she wasn't included in the pictures.
My son's and I.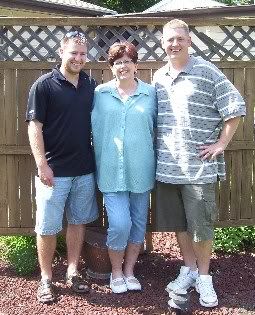 My oldest son Shawn and his wife.
My youngest son Kyle and his girlfriend.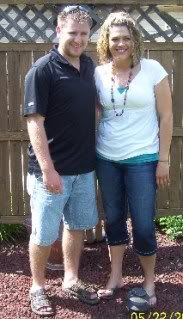 And then here the 2 boy's together.
That is basically all there is to tell you. I haven't been shopping to Goodwill or any thrift stores, but the Estate Store is open next weekend so I'm sure I will be there...lol!
Hope you all have a wonderful week and thanks for stopping by.