Hello friends!! I have been busy since I last posted so I have some things to share with you.
Got some candle mats stitched up...the designs are both by Dianne Cook of Olde-time-stitchin.com. They of course have been dipped in a coffee stain and are darker than the pictures shows.
Since we finally got some nice weather, I was able to get some staining done and get it hung up outside to dry. Hobby Lobby had some fabric a couple of months ago that looks like a top of a quilt. I bought a yard of it and stained it up...looks great. I'll finish the edges of and then hang it. Also got a bunch of muslin stained up too.
Last Friday, the Estate Dispersal store was open so of course I had to make my rounds. Also went to Goodwill and to a couple of garage sales.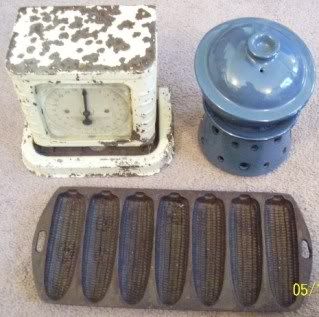 This spindle is big! The other wood thing was labeled as a money drawer...I think I will use it for my jewelry so I can get my jewelry amoire out of here.
I also had my neighbor make me up a hanging candle dryer the other day. Looks great, I just gotta stain it and hang it. The tutorial was on The Pickled Pepper Patch blog. Don't have a picture of it yet.
Have been doing a lot of work outside also since it's been nice. I have to curb my spending as my hubby warned me that if I want to go somewhere for vacation that I better start saving instead of spending so I guess my trips to Goodwill and garage saling will be quite limited. (darn)!!
I did buy a program the other day for the computer, I'm gonna try and start designing some of my own cross stitch designs. We will see how that goes...lol!!
Ok, need to get off of here and get busy. You all have a wonderful weekend!!
Oh, I also wanted to say thank you to all my new followers and to all of my old ones for the great comments you all have been leaving me! I appreciate it! Great friends!!