...and Santa won't be visiting me! That's ok though cuz I got plenty of shopping done...online...on Black Friday. Amazon and Dell have become my best friends...ha!! So I have to apologize, I have not been posting, no excuses, just haven't done it.
Remember back when I posted about being called to work for a couple of days in The Estate Dispersal Store? Well I actually ended up working the whole week for the owner and that is a job I would love to have all the time! I'm hoping she will call me back for this month...lol! And I do have some picture's of everything that I got there.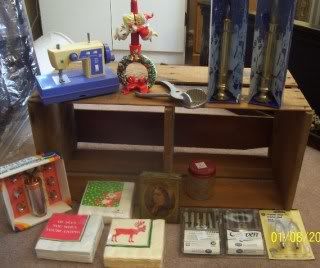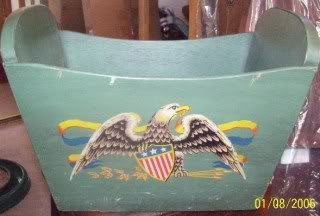 Holly Sugar sack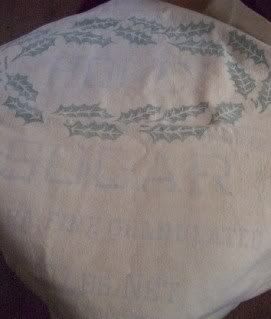 These 2 books about Iowa during the Depression, thought they would be interesting.
1.00...never used! I remember constantly doing this when I was younger!
This blanket that someday I will cut the fringe off of it and tea-dye it and use as a blanket for the end of my bed.
This Valet she was going to put in the trash so I grabbed it. The seat needs reovered though.
Another 1.00...never used.
That is pretty much it. Been trying to get some Christmas decorating done. That darn Spaz just won't stay away from the tree. It was on the floor yesterday!! Water bottle and rubber bands, here I come...lol!! Oh, and that VERY part-time job that I told you about? It didn't work out. Waited 3 weeks to hear from the Supervisor, I finally emailed him and said this was not going to work out since there obviously wasn't any work, he wanted to know if no communication was the problem??? WHAT?? Well duh! You never contacted me until I decided to quit! They did pay me for my online training and yesterday I got my name badge in the mail...ha!! Geez!!!
Been doing lots of cross stitching, all listed on ebay. Some have sold. I also closed my Etsy shop, just wasn't anything happening over there, of course I never promoted it so that's my fault. I took everything out of there and put on ebay. Some painted stuff that I did when I was painting. This is the latest cross-stitching that I did.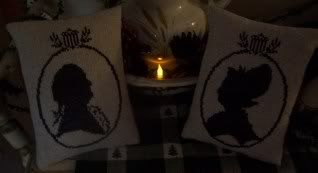 Well I think that is it for now. Have a wonderful week-end everyone!!