Good afternoon friends!! Hope this post finds you all well, safe and warm! Some of you have been getting tons of snow and I hate to say it, but you can keep it there!
I have a few Christmas decorating pics to show you but first I want to show you something very special to me. About 6 months ago or so, my sister, whom lives in Alabama was cleaning some stuff out and came aross this cross-stitched piece that she had made for me back in 1988!! I'm pretty sure that she has cleaned since that time...lol! Anyway, she never gave it to me during all these years, probably cuz she forgot about it and didn't know where it was, anyway, she found it and mailed it off to me. I found the perfect frame and had a mat cut yesterday for it at Hobby Lobby. I still need to attach the piece to the mat but I wanted to get a quick picture of it so I just placed it in the frame. I just love it!! Kind of made me cry also! It's hard to see the color of the frame and mat in this picture, but the frame is dusty blue color with black showing through the grain and the mat is kind of marbled with the same color blue and black. It matches together so well!!
Ok, here are some decorating pictures. I hate trying to decorate, it just doesn't work for me...lol!!
Vintage Christmas aprons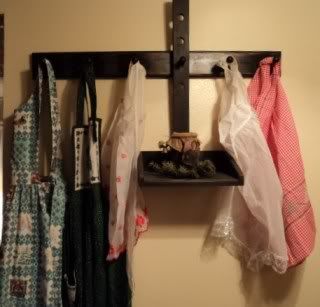 My Hoosier cabinet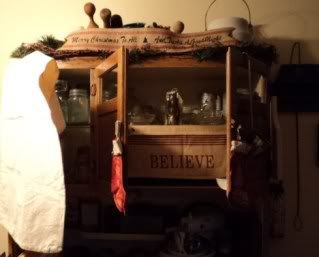 Sink cover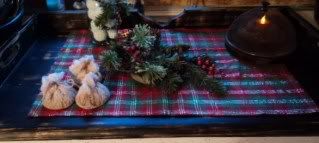 Stove cover
Yes, that's my printer and modem sitting there on the bottom shelf. No where to put them. And of course that is where the cable line comes up from the basement!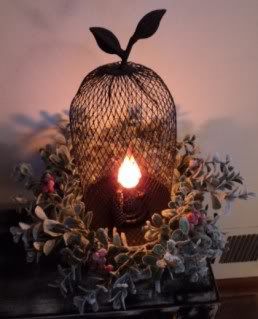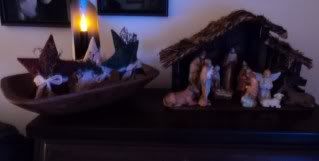 My prim tree
Other tree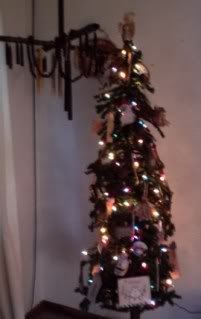 Last weekend the Estate Dispersal Store was open so of course I had to go and check it out. Here are a couple of things that I got.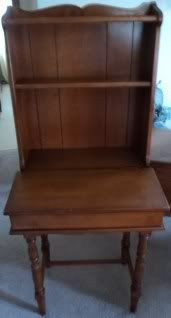 I also won a giveaway from Angi over at
Drakestone Primitives
.
Look at all this great stuff that she included. I'm just absolutely in love with this reindeer and the beeswax Santa's smell soooo good! And the reindeer ditty bag is just too darn cute!! Thanks so much Angi!!
I also have to show you this little stocking that I bought from Jody over at
Primgals Primitive Palette
.
It's so cute and she painted this so beautiful. The details are awesome. Everything she paints is awesome! Thanks Jody!!
I have also started on stitching up Valentine's Day items. Never too early...lol!!
These are on my ebay.
This design is by Shelly Auen from Primitive Stitchin
The next 2 designs are by Jenny Hoffman over at Country Rustic Primitives.
Well I do believe that is it for me. Just trying to get my Christmas shopping done. I have nothing wrapped yet!! Hope you all have a great rest of the week and weekend!!