being sick and for not blogging!! I just need to get with the program here. Besides my neck and back, I came down with a stupid cold and sore throat. Let me tell ya, the cough just hangs and hangs on and will not go away! We have been having some pretty decent Spring weather so I went out in it and that was NOT a good idea...lol! Big mistake! Ended up down and out again. Now I'm back to just the cough again but that is certainly enough.
I am also very late on posting this giveaway that I won from Christine over at
Preferably Prim
. I love it all so much! She even included chocolate hearts in that little ditty bag!!
I went to the Monthly Estate Sale and that is when I ended up getting sick for the 2nd time but I did get some goodies.
All this wonderful DMC floss and a bag of buttons
These sconces are pewter, I have never seen pewter ones before.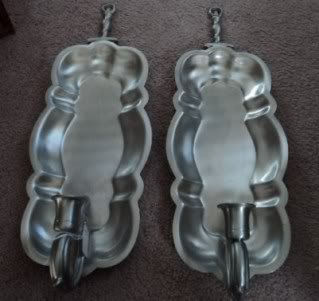 Not sure what this little suitcase bag was used for. We are thinking maybe a jewelers box?? But I love it!
Nothing else has been happening around here. Just been doing alot of cross-stitching. Can't do much else while sick or else it's just that I don't want to do anything else...ha!!
Sorry for such a boring post!