WOW all I can say!
I recently was in a swap hosted by Tammy over at
"A Primitive Place"
. I was partnered with Amy of
bumblebeelanecottage
. I had so much fun doing this swap with her!! Anyway, my package arrived Saturday and oh gosh, she spoiled me!!
Upon opening the box. Wait....is that a Hershey's candy bar poking out?? Oh gosh yes!! LOL!!
Look at those dolls! Aren't they just the primest??? And that sheep...it's blackened wax and it smells like you would not believe! I also got a bottle of Gingerbread room spray and a couple of scented tealights which also smell great. Also a really nice card from Amy!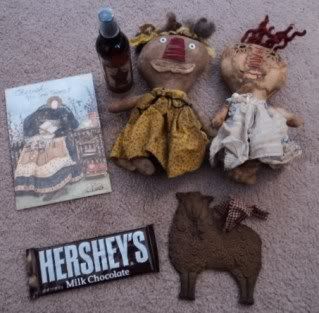 And lastly, she knew that I needed something for the peg rack that goes around the walls in my bedroom and she sent me this darling prim little dress or shirt. It looks even better in person.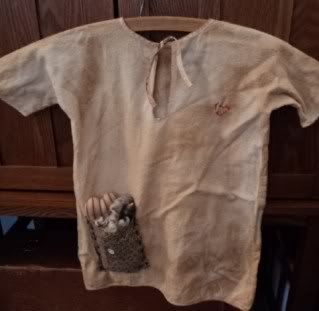 And here it is hanging on the peg rack. It fits just pefectly here!!
I want to thank Tammy for hosting this awesome swap and also a big thank you to Amy for being my partner! I just love everything that you sent!!