Happy Hump Day all!! Spring looks like it has disappeared for many of us. Some of you have gotten snow and ice. That is what we are looking at for the weekend and the weatherman also says that it will be a snowy end to the month of March so we will see. I'm not looking forward to it. Yesterday was so nice out but then had severe storms come through with lots of hail around the area. Lots of damage!!
I need to apologize to Carol an hubby of
Firecrackerkid Primitives
. I had posted a picture in my last post of the chicken nesters that I had ordered from her. Well I posted the picture showing them upside down so I have took a new picture of them the right way!! LOL! I am so sorry Carol and hubby!!
Monday was a really dreary and cloudy day and I was still recouperating (see below) when my mailman delivered a package for me. I wasn't expecting anything but this sure did brighten my day!! Tammy of
A Primitive Place
sent me a "just because" package. An awesome smelling candle (Cinnamon Pecan Swirl) and a little wooden box with a nest of eggs in it with berries. Thank you so much Tam!!
This past Saturday (the 19th) was my 50th birthday! Yes, a 1/2 century old!! Friday night I had a party at one of the bars here in town where my favorite band was playing. I had such an awesome time but I did drink just a tad too much. I don't do that very often at all. Most of my closest relatives and most of my very good friends joined me in celebrating. I tell ya, it was just a blast!
Here is a picture of me up on stage with the band and another girl that was having a birthday playing the cowbells while the band was playing! I'm in the black & white stripe top.
And here is a picture of my mom and me when she was getting ready to leave.
(Wow, look at that flab on my arm!! I need to do something about that)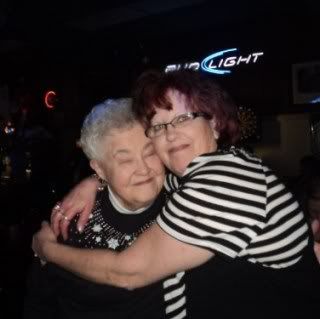 This was the pin that I wore all evening. By the end of the night, I was at this point...ha!!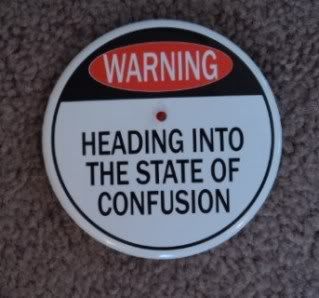 I got some awesome gifts and great cards! And on Saturday I had a flower delivery. They were from my sister, the one that lives in Alabama!!
So then on Saturday after I finally got up, we went to a craft show in Iowa. I knew ahead of time that Laurie, from my fav shop was going to have a booth there. This is what I bought from her at the show: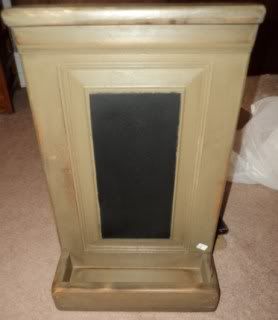 There were a couple more prim booths there this time then there was the last time which is good news. Here are some more goodies that I got from those booths.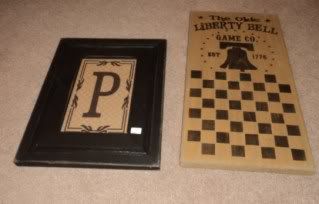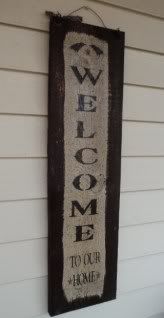 Then after the craft show, since the casino's are right there, and I do mean just across the street basically, we had to go try our luck...it was my birthday after all..ha. Well, just because it was my birthday, it made no difference to the casino but we were there for quite a while playing. Sunday was a day of do nothing, a nap here and there...lol!
Ok, that's all for me today. Hope you all have a great rest of the week and weekend! If you have snow or will be getting it, be safe and warm!!