Hi all! Hope you are having a great start to the week! It is hot and humid around this area and I know some of you are going through the same thing. So stay hydrated everyone if you are outside!
I'm late in posting this...sorry Amy!!! But that sweet girl and I did a swap and the items she gave me are just fantabulous!
All the pineapple things she made herself. There is a real dried pineapple (Amy said she is never going to do another..lol), a fabric pineapple and beewax pineapples. These smell so good!! I noticed that she has them posted on her
blog
today and is selling them, be sure to go visit, they are great!!! There is also a very cute little wooden bucket and also an awesome Americana picture.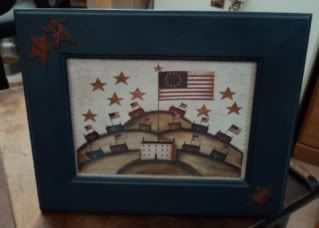 And then THIS!!! I so love this, I have wanted an item of
Karen's
for a long time now and I finally have one!! I was so excited over this!! It's a darling little prim bag. I'm not sure if I want to use it though...lol!
And yes of course I can't forget to mention the cracker box. I forgot to take a picture of it, thanks girl! Love ya!!
Has anyone heard from Sue over at
Oodlekadoodle Primitives
?? I'm worried about her, she hasn't posted now in over 4 weeks.
Ok, that's it for me! Have a great week everyone!! And thanks again so very much Amy!!