...that I haven't posted about. I know I know, bad me!!
A couple of weeks ago (ok, it was longer than that), we had my mom's 80th birthday open house. She had a great turn-out and I think it went really well. This picture is of me and my sister's and my mom. I'm on the far left. I only get along with the sister that is blond and unfortunately she lives in Alabama so I'm lucky to see her once a year. (2nd from right).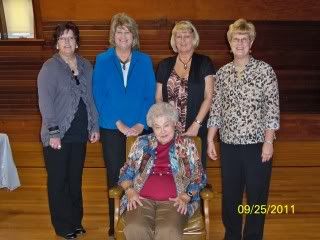 The table decorations were really simple and I forgot to go back and find out whose idea this was, except I used floating candles instead of flowers. So thanks to whoever that was that gave the idea.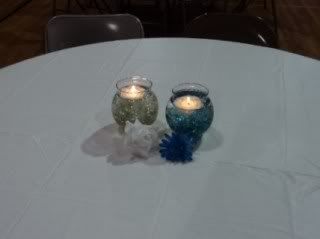 And then the weekend after the birthday party, my daughter and grandson came back for a visit. I don't get to see them often since she has a DUI and can't drive. Can't believe she did that!! Anyway, my mom showed up also so I got some 4 generation pictures of us. Don't we all look excited??
Here is one of Landon, my gs eating.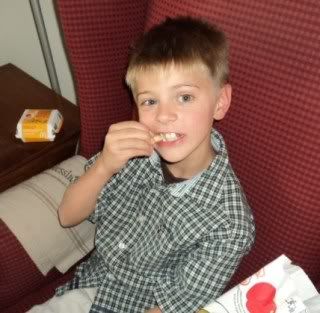 And then here is one that just has the 3 of us without Landon.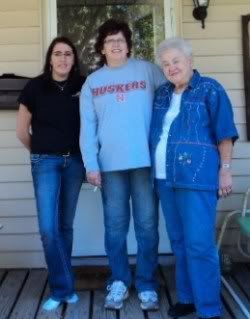 Yes, I do have that nasty habit and that is a cigarette in my hand!
I have been sick since Wednesday, not sure what it is but I'm still not feeling right today. My breathing is off, I do know that (gosh, could it be that I smoke??). I should probably go to the doc. tomorrow. I have also picked up a new merchandising position, I'm with Foster Grant now also, so that gives me about 8 more stores in my area to do. The service calls are usually only once a month, but it still gets me out and about so I'm not shut in all day every day. I did get to the Estate Sale and I have some goodies to show but I haven't even taken pictures yet so that will be another post. Hopefully soon!! Well I hope you all had a wonderful weekend and hope you have a wonderful week!