Hi everyone! So sorry to hear about all the snow in the Northeast, stay safe and warm, and please don't send it my way!! We have been having beautiful weather but chilly during the nights. Halloween will be nice for the kids...high of 65.
I recently won Pat's giveaway over at her
blog
and oh my word!! This pin cushion is just beyond beautiful!! So much detail on it. Didn't she do great work on it? She also sent me a vintage cross stitched towel, a wonderful beaded bracelet (beautiful also), and a sweet little french note card to use. Thanks so much Pat! I love everything!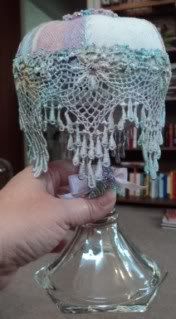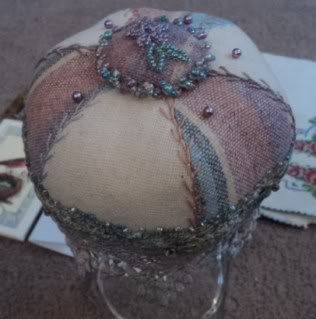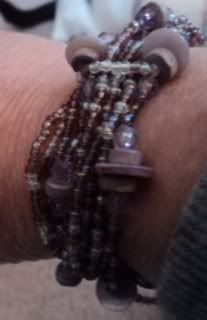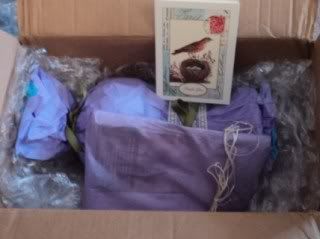 Well I did have some pictures of some goodies that I bought at the last estate sale but I can't find them!! I had gotten 2 pin cushions, some cute hat pins, a granite pitcher and I think that was it.
Here is an updated picture of my sewing machine display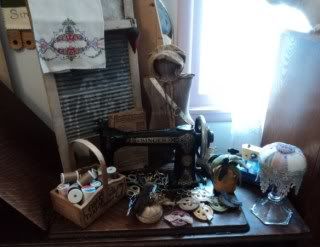 Well I believe that's all I have for you today. It's been pretty boring around here, haven't done anything but stitch. So my next post should have all new cross stitched pin keeps for you to see. Oh, I did pick up another merchandising job. So now that's 3 jobs that I work. The new one is weekly so that is even better. I have also decided that the pack of cigarettes that I opened this morning will be my last. Yup...I'm quitting. I gotta!! Wish me luck on this cuz I'm gonna need it. I've done it before so I can do it again!!
Take care everyone, have a wonderful week and a happy Halloween!!