I have been bad....I haven't posted since Christmas! Maybe Santa won't be as good to me this year as he was this past one. My kids got me a Kindle! They got me the regular one so I went and traded it in for the Kindle Fire, with their blessings of course. I love it. I still haven't read any books on it, still playing with all the free apps and games...ha! Look how excited I was as I totally was not expecting it. And look at all those chins!!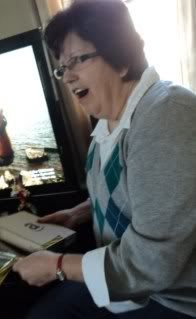 So last week I was really sick. Sick enough that I had to go the hospital. There is a gastric virus going around and that's what I had. You don't want to know the details but let me tell ya, it's horrible! At the hospital they gave me a shot for the nausea and then hooked me up to an IV since I was dehydrated. I'm feeling lots better, still some weak muscles around the stomach area from all the nausea, but still much better. It's only a 24 hour bug but it's a bug that really bites! Hubby had it a couple of days before I got it, he didn't get it as bad though. I hope I wasn't whining like he did the whole time he had it...lol.
I'm late in posting some things I received in the mail.
Amy
and I did a swap and this is what I all got from her. My first hooked rug!!! I was so excited over that. Thanks again Amy for everything!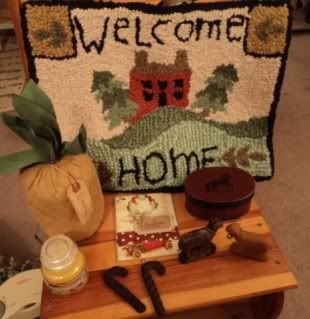 And then dear sweet
Lecia
had asked me to make a framed cross stitched picture for her. Well I also made a matching pinkeep and a Valentine's day pinkeep for her also. Well she thought that she needed to send me something for all that, I told her no, it was a present, but she still insisted. She sent me 2, yes 2 of her well known bonnets, and an awesome little prairie dress with it's own bonnet. They are all so adorable, thank you again dear friend!!
The prairie dress is the one on the right.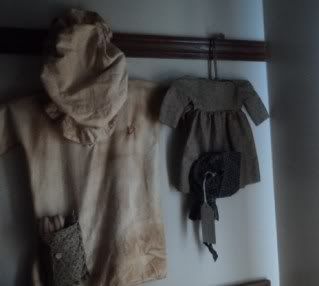 My wall rack is getting full!! The 2 bonnets on the left are the newesst ones.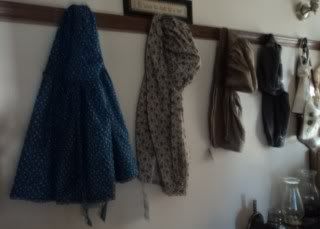 Have to throw in a picture of Spaz. She looks guilty!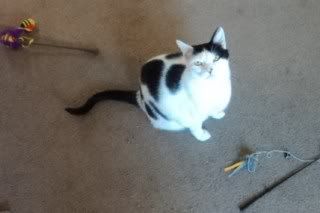 I have to show this picture of my boys opening one of their gifts. I found these in some catalog, can't even remember the name. Maybe it was "The Lighter Side". Anyway, they each got a "Weener Kleener Soap". It was just hiliarious! They got a kick out of it.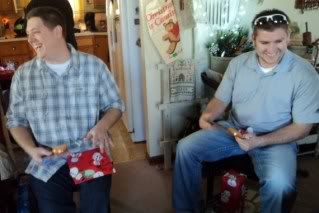 Over New Year's weekend, we got to get my grandson Landon for a visit. It was a good one. The time went too quickly though. Here is a recent picture of him.
Well that's about it. I have still been stitching. I'll have some Valentine pinkeeps soon.
Have a great week everyone!!