Hi all!
Just a quick note to let you all know that I have just listed some Valentine's Day pinkeeps on my ebay.
Most of these are by Jenny Hoffman of Country Rustic Primitives. The heart shaped keep is by Shirley Hudson.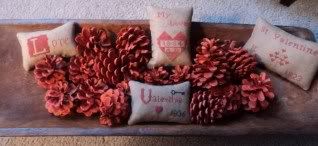 Winter has finally arrived here in Nebraska! The wind is a howling and I guess Omaha got a light dusting, enough to make the roads slippery. We didn't get any snow here. It's downright cold out!!