Hello all!! A big Welcome goes to my new followers!!
Visited GW this week, not much again. Looks like I will have to get into Omaha soon to take care of this disappointment...lol! This is what I did end up getting.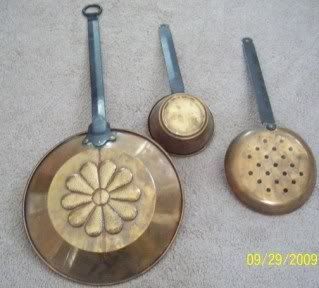 I also got some cross-stitch fabric and a couple of Country Home magazines. I decided to stop again today since I was out that way to go to WM to get my medicines. Not much again but I did get a Nativity scene. I have never had one in all my years...isn't that weird!!
I did get a new do the other day. Going to go lighter now, need a way to cover the grey so I figured a lighter color wouldn't show it as much. I usually grow my hair out in the Winter but my stylist talked me into a short cut...again! I can't believe how fat my face is.....plus I have like 4 chins!!!
It is really getting chilly here....too soon!! The north wind is just a howling out. It was rainy but now the sun is trying to peek out but it is still chilly. Tomorrow we are only supposed to have a high of 50! WOW! I have read that some of you have already gotten a frost but that hasn't happened here yet.
Last weekend was my grandson's 6th birthday party. Have you ever seen that age bowl??? It is so fun to watch. He even got a strike! Of course the gutter edges were up but still!! Those kids just drop the ball...lol. I'm sure that the guy running the lanes is just sitting there getting screamish thinking about his lanes! LOL! He also lost his 1st tooth last week. He doesn't agree that he will lose anymore, no matter what we said! Here are some pictures of him.
Well I think that's gonna be it for today. I'm hoping I can get some cross-stitching done. Oh, I did want to ask...is there a way to search blogs by State? Do any of you know or is that a dumb question? I would just like to see if there are any people around the area that have blogs. Ok, now I'm done! Thanks for joining me today!