Hello all! Been awhile since I have been here. Had some health issues last week and I'm still kind of recovering from that. I have A-Fib but haven't had an incident since '06. I woke up last Wednesday morning and I could feel that I just wasn't right so I went to my heart doc. After an EKG, I was told that my heart was giving an extra beat. So off to the lab I go, bunch of blood work which all came out normal, and then I ended up having to wear a heart monitor for 24 hours. It was showing that I was having this extra beat about every 2 hours that day. Yesterday's follow-up EKG was normal so we aren't sure what kicked that into happening. They did increase my heart meds so hopefully that won't happen again. Now on to some other things.
The following 2 pictures are of my grandson with his new bike that he got when he was here this last time.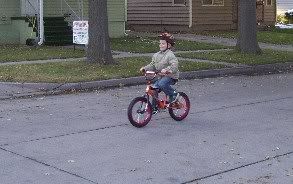 Have any of you been to Gordman's lately? They have a lot of prim stuff...yes, I know, it's made in China but these crocks and jugs that I got are probably the only kind of ones that I will be able to afford...lol.
And then some other things that I got there. Someday I hope to be able to learn that blanket stitch that is used on the tags and mitten.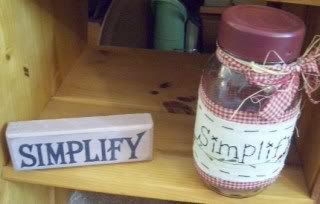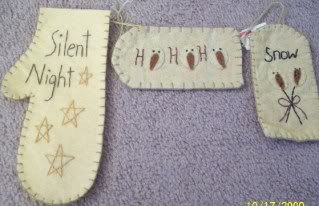 My last visit to Goodwill didn't produce anything...I'm sooooo disappointed!!
I did finally get some of those re-do's done. I love my spoon rack!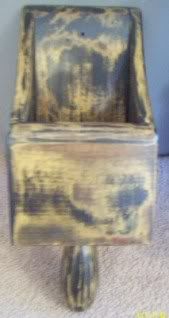 That's pretty much it around here. Still working on some cross-stitch pieces. I have 3 little tucks/pinkeeps done but those will be used for the OFG Holiday Celebration which starts next week.
I'll sign off with a picture of my cat...Spaz. She's giving me that warning look to not take her picture...lol!!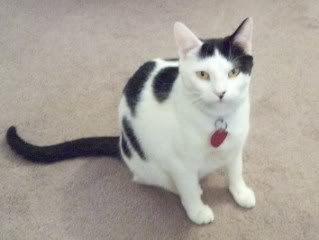 Everyone have a great rest of the week. Stay warm! It's going to get cold and rainy here again starting tomorrow!