Yes, it's time for my giveaway!! My rules are simple:
1. You must be a follower
2. You must leave a comment on this post only
AND
3. This isn't required but will gain you an extra entry....post this giveaway
on your blog
Make sure I have a way to contact you in case you win...either by blog or email.
Now for the goodies!!
A Country Living metal sign, Faith Family Friends stitchery (not handmade), a little metal lantern for tea lights, a plate shelf and a boutique tissue box cover!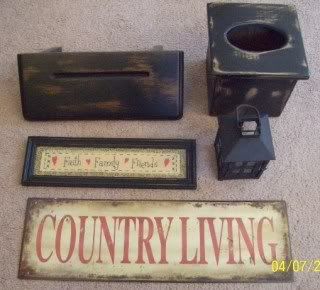 AND!!!!
A thermostat cover, candleholder, grubby candle, 3 old spools, 2 "Homespun" notepads, and 2 packages of little nubbie candles.
Unfortunately due to the weight and size of this giveaway, I have to limit the giveaway to the USA only! Sorry about that!! I will pick a winner on May 3.
Thanks all!!