I gotta vent here all, sorry! Went online today to check my bank account and a whole bunch of charges from Illinois are showing!! I'm not from Illinois!! $262.00 worth of charges on my bank card. So...........phone call to bank, luckily I get my money back but what a hassle. Now I gotta wait for a new bank card (I use this constantly), change my pin number (something else to remember), change ebay, etsy and paypal and all the other places that I pay online at!! Someone needs to get their own life!! I'm happy that it wasn't large amounts, probably because they didn't have my pin number but still! Plus I'm upset with my bank too, any charges from out of state are supposed to be flagged but something didn't work right. But they are going to give me my money back so I guess I can't be to upset with them. Ok, I'm done, thanks for letting me vent!
I haven't done any shopping so I have nothing new to show. Haven't done any re-do's so I don't have anything to show you there either...lol! BUT, I have been just a stitching away!
This one has already sold off of ebay. It's a design by Beehive Needleworks.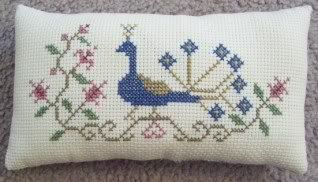 This is a design by Shakespeare's Peddler
Design by Carriage House Samplings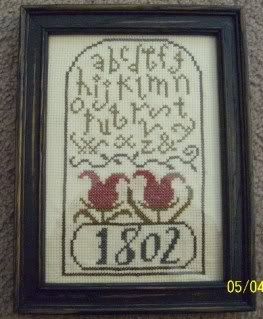 Design by Clara Blalock of The Stitching Parlor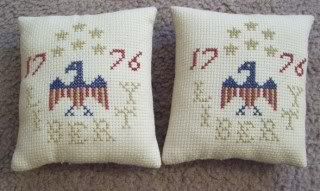 Well now that wasn't very much was it?? You would think that I would have gotten more done since my last post. I could say being outside in all the warm weather is the reason for not getting anything done but that's a lie. It has been so DARN cold here!! Some really weird weather going on this year....seems like all over, not just here. My thought are with those that have had tornadoes and flooding. I need to be grateful that it's just cold here.
Well that's it for now. I hope you all are having a good week!