Wow! It's been awhile. Have had lots going on, wish I could say that I have been creating all this time, but not true. I have done some though so I haven't been totally lazy...lol! Got lots to go through though so shall we get started?
Made my monthly trip to the Estate Store and this is what I got! That Wingback chair was only $30.00! The chippy Washstand was $45.00. I'm loving that old Sampler, that was $16.00. I should do some research on that name. Yeah, some day..lol! Also a big old bag of buttons and a bag of all kinds of colors of fabric napkins. I'll coffee stain those....yeah, some day...lol! Edited to add that the picture of the chair really turned out horrible. The chair is not that dirty looking and there are no rips or tears on it!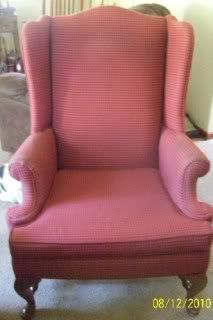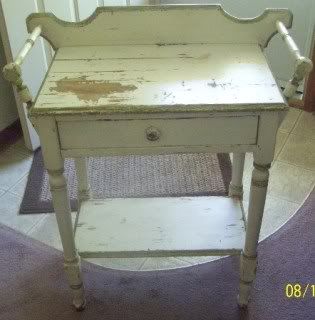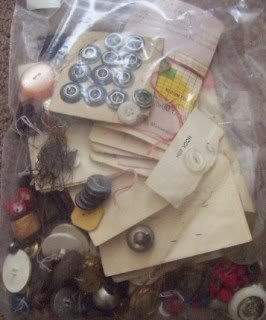 Have any of you been to Gordman's lately?? (Angie, that's for you...lol) Yes, I know, made in China or somewhere over there but still prim looking stuff. This is what I came home with.
And then a trip was also made to my new fav little prim store, The Whistle Stop. Didn't get much this time though...yeah, some day...lol!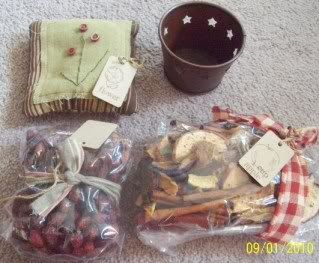 The following pictures of what I have created lately. The cross stitch designs are Jenny Hoffman's of Country Rustic Primitives design and the candlemat is a design by Chestnut Junction.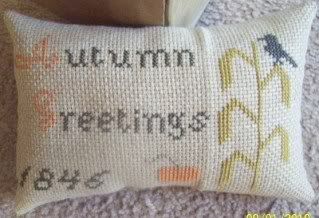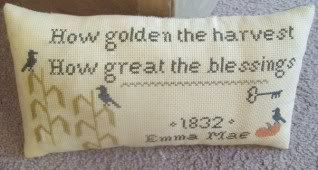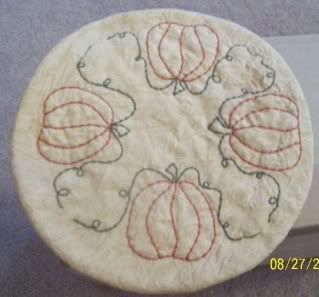 Ok, that's it for pictures. Other things that have been going on is that I was sick for almost a week! I was down for the count. Not good at all!! The other is that my Uncle passed away. Sad time. I loved him so! But he is with his wife, son, and his siblings (my dad) now. I so love his kids also, we get along very well. Another sad thing about his death is that the family name (Goldberg) is now done. My Uncle had a son that was killed in '77 in an auto accident and my dad (now passed 13 yrs ago yesterday) had all daughter's.
Oh, and some good news here....my bestest bought a house, all on her own. I'm so proud of her. Hopefully her closing date will be by the end of the month. Wow, it is September isn't it? It's chilly here today, by my standards anyway. AND I have also painted my bedroom!! Shocker I know! Not totally done though. I have to redo the trim because the paint that I got, is almost the same color as the walls! Not what I wanted. I also need to get the windows done too...yeah, some day...lol!
Hope you all have a wonderful and safe Labor Day Weekend!!