Hello friends!! Hope your week is off to a good start for you all!
I Went and visited my fav prim shop again this past Saturday,
The Whistle Stop
. I really need to stay away from this shop but in reality, I don't think that will happen...lol!! I also think that I need to ask the owner, Laurie, if I could bring my camera next time and take some picture's of this place so you all can see how neat of a shop this is. Maybe she will read my blog and answer me. Her "Deck the Holiday" open house is November 4th, 5th and 6th and I am soooo looking forward to that. I need to start saving my money! Anyway, the following pictures show what I bought this time around.
I had the little flicker candle already and thought it looked great in this birdcage type thingy. I don't know what they are called..lol!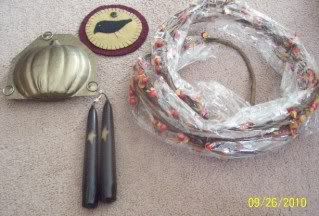 Also got that stool there also.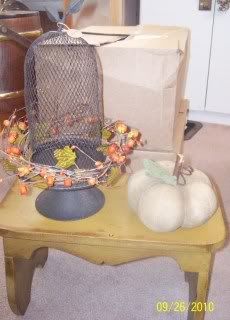 I am late in posting these pic's of recent giveaways that I have won.
The first one was a giveaway by
Crafty Stitchers
. I love it all, thanks so much!!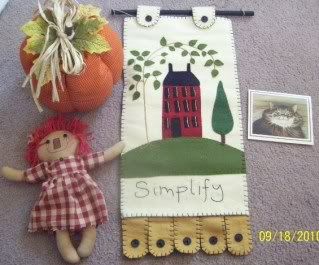 The 2nd one that I won was from
Down Willow Lane
. Lucy and her kitty came all the way from overseas! They are both so cute and I love them. Thanks again so much!!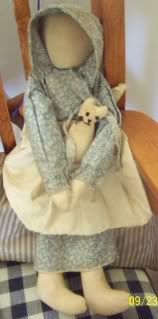 I have gotten quite a bit of cross-stitching done but hopefully today I will get them sewn together and stuffed.
My grandson was in town this weekend to spend some time with his grandpa from Missouri. They both stayed at my son's house. Hubby and I went over there Saturday for the football game and we had a barbeque before the game. Go Huskers!! LOL!!
Anyway, that's it for this time. It's been chilly here in the mornings and I'm not liking it any. Have had to put the electric blanket back on the bed and I have been turning it on at night. No...I'm not looking forward to the cold weather at all! Which also reminds me....I got our bedroom all painted but I have nothing hanging on the walls yet so I haven't taken any pics of the room yet. Will get to that soon, hopefully!!
Bye friends and have a great week!!