It's sunny and beautiful out today and I guess we better enjoy it. Cold and snow is forcasted for Friday!! Strange weather this year for everyone!
Nothing exciting has been going on around here. I have been good and staying away from all my fav stores. Of course not having any money to spend helps in that...lol! The Estate store was even open this past weekend and I stayed away! I could here it calling my name all weekend though..ha!! My 1 day a week, 4 hour job is going good. Gets me out anyway.
Here are a couple of pictures of 2 things that I bought from Brenda over at The Rusty Thimble. The Junkyard Cat is just the cutest thing!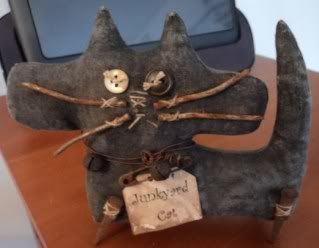 Yes Amy...more pineapples..ha!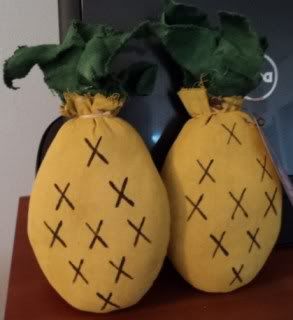 I did a trade with Judy over at
prim2pink
and she made me this awesome table runner. The colors look really bright in this picture but they aren't. It has the perfect prim colors in it. And she did wonderful making it. The picture doesn't do this piece justice.
I have gotten quite a few cross stitched pinkeeps done and I will be listing all these on ebay sometime today. These are all by different designers...Sandra Sullivan, Quilts by Cheri, Jenny Hoffman of Country Rustic Primitives, Stacy Nash Primitives, Lori of Notforgottenfarm.com, Shelly Auen of Primitive Stitchin, and The Stitching Parlor.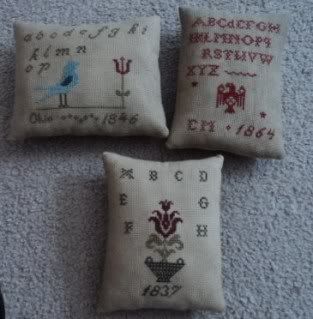 The last couple of days I have been working on candle mats. I haven't done any of these for awhile so I figured I would get some made up.
One last thing that I have, is this huge bundle of fabric that I would like to sell if anyone is interested. All different sizes, from fat quarters up to probably about 2 yards of some. A couple of pieces might have a little bit cut out of them that I probably used for backing of some pinkeeps. But there are Christmas, Halloween, florals, homespun, toiles cuts in this grouping. The pile is heavy so the best shipping option would most likely be a Priority large flat rate box which I think is around 14.95 if I remember?? I would like to get around 8.00 for the pile, so that plus the shipping charge. Just let me know. First person to respond about it gets it. Different views of the pile.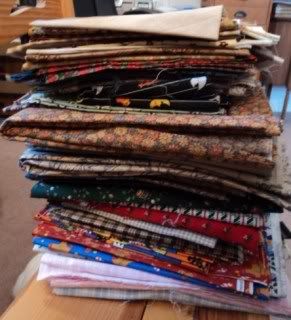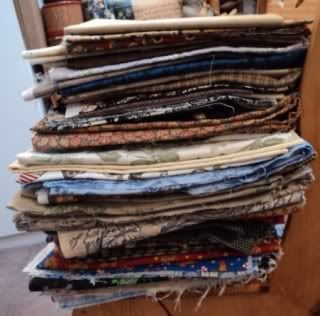 Ok, so that wraps it up for me. Hope you all have a wonderful rest of the week!!