Hey everyone! Long time no see! Looks like I'm being bad again about not posting. I just don't have that much to say...lol. Now other people would not agree with that statement...ha!!
We had a good sized snowfall last weekend. Here are some cool pictures that I took the next day.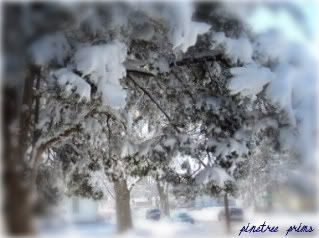 I visited the Estate Dispersal Store yesterday and got a few things. I'm loving this typewriter:
This vintage sewing basket, filled with sewing needs, the little aluminum advertising clipboard and a pair of scissor's that have a really lovely design on them. Oh, and also the hat pincushion.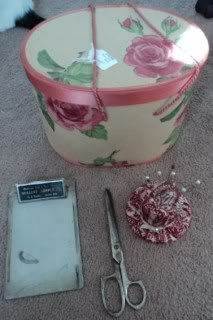 I joined a garage sale site on facebook recently for around my area. I have been selling quite a bit of stuff on it, but have also been doing some buying. I have met some really nice people right here in my area. This one lady that I have become fond of recently did something so awesome for me. A seller had a daybed listed and she also had a really primitive cabinet listed for $50.00. This friend bought the daybed and I had really wanted the cabinet, this seller lives 45 minutes from me and even further for my friend, so anyway, my friend finds someone with a truck to go and get the daybed and they were nice enough to pick this cabinet up for me!! There are really some awesome people out there, as I have also found many of you in blogland also! The cabinet does need lots of work but I just love it. I think I want to leave the top part just like it is and redo the bottom part but I can't decide how to do it. If you all have any ideas please let me know!!
Speaking of facebook garage sale sites, I started a page of my own called "Fremont Nebraska Area Rustic, Primitive, Shabby Chic and Antique Sale Barn". Alot of people in my area are starting to get into these types of decorating. But, there aren't many sellers of all these things in this area. So I'm sending out an invite to you all to join and to sell your items on my page. This also includes handmade items. Of course buyer pays shipping. If any of you would like to join, please just let me know. It's open to everyone, not just sellers but buyers also. So easy to upload photo's and it's all free!! All details are worked out between the buyer and seller. I would love to see you all there!
Ok, that's it for today. I have nothing else to ramble on about...lol. Have a great week everyone and Happy Valentine's Day!!