Hi friends...hope this post finds you well.
This past weekend a friend and I went and did some serious shopping at our local antique stores. One of them was closing so most of the stuff in the booths were 50% off...jackpot!! LOL!
So all the following pictures are of stuff that I bought. There's a few pictures...lol!!
A quilting arm:
I love this set of the hairbrush, mirror and case. The handles have been broke on the brush and mirror and glued back on but I still couldn't resist.
A paint palette that I think I'm going to sell:
I love this print:
And this one: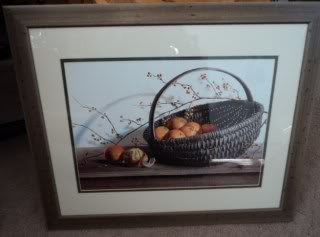 Yarn winder: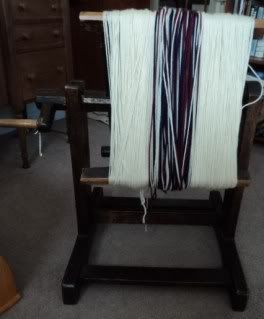 And another one with a pitchfork part: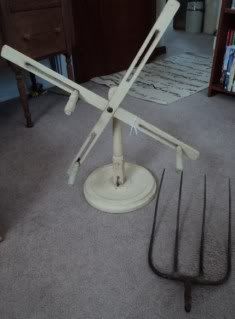 A masher, bells, rug hook tool and a unique looking shelf thingy:
A Turkish bench and a couple of old photo's:
And now for the 3 big items that I got!!
This was called a Candlestick telephone stand: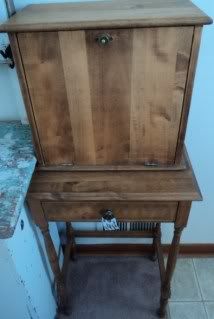 Big score on this...I just have to redo it. And it's a good size also and heavy!! $60.00!!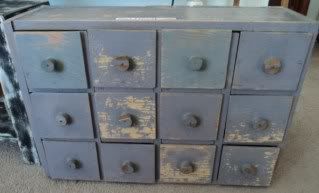 And the final thing that I am absolutely in love with! It's not as old or chippy that I originally wanted but it's just old enough that it is still in sturdy condition. $148.00!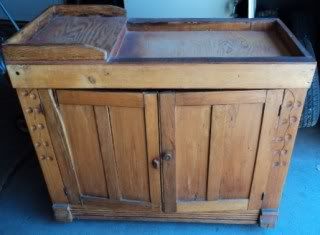 Here it is after I have cleaned it with Murphy's and did some decorating. I'm sure I'll change this out but I like it for now.
Well that's all I have. Still doing my cross stitching for pinkeeps but don't have them put together yet.
Have a great week everyone!!