These are my latest GW finds. The large cutting board will get redone for sure! You can't see the spoon rack very good in the first picture but I took a separate picture of it. Those 3 little colored things are "books", not sure if I will redo them. The little double basket or holder is actually a Tender Heart product, not sure if I will redo that either.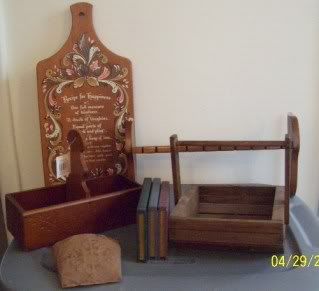 The coming week is "supposed" to warm up, in the lower 70's anyway. Hopefully I can get my flowers planted.
Everyone have a great weekend!!