Yes, I know...I'm late posting some pics of my Mother's Day. Remember when my mom was in the hospital with pneumonia? Well after she got home, maybe a week after, she had fallen in her house and hit her head on the floor. The following is a picture of her, almost 8 days after the fall. Yes, she was fine, was checked by her doctor and he gave the all clear. She is on Coumadin and this is how easy bruising occurs. This picture was taken at my nephew's graduation party on Saturday, the day before Mother's Day.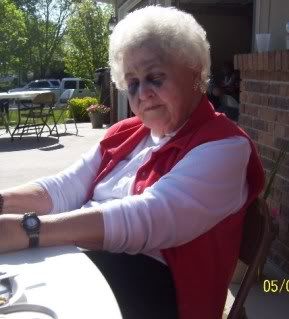 The next few picture's were also taken that Saturday at my daughter's house, with my grandson Landon and also my hubby.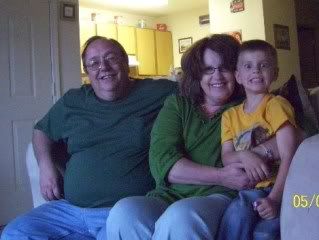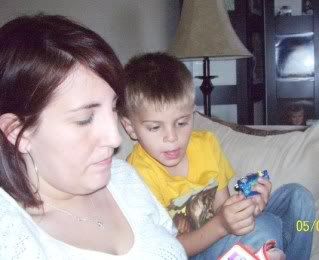 Mother's Day was especially special for me this year. I have a 22 yr old son that has always lived with his father since he was about 3, (I won't go into the details of why). I was always able to get him for other Mother's Day celebrations and as he grew older, friends, sports and driving seemed to get in the way. He also had moved quite a ways away. Then he graduated school, went to college not very far away from me, got a girlfriend that doesn't live very far away either but now we were able to see each other more often. Still, he never made it to see me on Mother's Day. He would call though. Anyway, on Sunday hubby and I went to get groceries as we normally do on Sundays and we came home, put everything away, we were just getting ready to leave to go to my mom's and my son pulls into my driveway. I cried! This was the first time that he has ever came to see me on a Mother's Day on his own. He even brought me a plant. He made my day! The following is a picture of me and him. Him and g/f ended up going with us to my mom's house. My other son and his wife ended up buying us supper, but I didn't get a picture of him.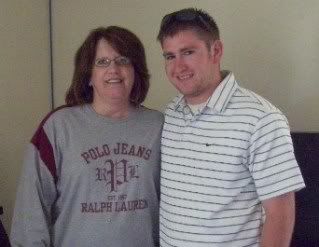 Last thing I have for you all to see is a couple of redo's that I did manage to get done.
I really like how the mustard colored box came out. Both were painted black then the basket got a coat of a hunter green paint than sanded and sealed and the box got a coat of a mustard colored painted, also sanded and sealed.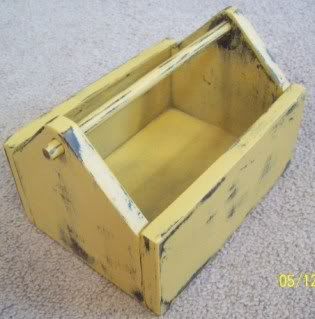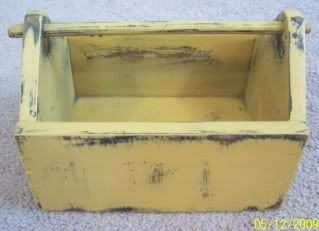 I apologize for having this post so long but thanks for sticking with me!!