Hello all...tonight is quite chilly out. Just in time for the start of Fall I guess. It didn't even get to 60 today.
I did manage to get a couple of redo's done. It's hard to see the colors of the mirror so I also took a close up of one of the sides. Base coat is red, then painted black, then sanded and then stained.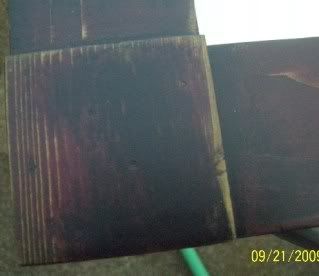 And then I got this candleholder painted. It's kind of a bronze-pewter color.
This is my new stitchery that I did today. I thought it was a cute saying. I know I miss my daddy all the time!! I painted the frame black and sanded, then stained it. The stitchery is done on coffee-stained muslin. The picture is showing some weird grains in the fabric. That's not what it looks like. I can't give credit to anyone as I don't know who the designer is. The frame is 4 x 6 size.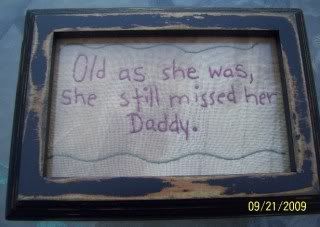 Have a good night everyone and stay warm!! We are supposed to have lows in the low 40's to high 30's this week.