Hi all and welcome to all new followers. Love having you here!
Wow, it's been awhile since I have posted but have kept up with all your posts! Been loving the texture ones and of course all the re-do's that everyone has been doing.
Went to the Goodwill this week and didn't get much at all. Kind of disappointing...lol!
I did get this candleholder which I will probably paint a different color
Also got these Indian corn candles which I'm gonna try and prim up a bit
This little box with the old thread carving on it, I'll put it on my old sewing machine.
And then these 2 fabric pumpkins which I'll also prim up.
I have also listed a new candle mat on Etsy. It's a Double Star Willow pattern by Jo-Ann of JoAnn's Country Corner.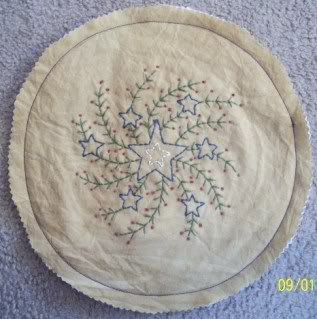 The back of it.
Speaking of Etsy, I have reduced everything in my store for the Labor Day Weekend if anyone is interested. Just click on that Etsy button on the right side of the page.
And then I also can't forget about this being Football weekend. Nebraska plays their first game on Saturday night!! GO HUSKERS!!!
I still have some re-dos that I need to finish up, they have been sitting in the shop for about 3 weeks now. Need to get going on them.
That's it for now....everyone have a safe and fun-filled Labor Day Weekend!!