Hello blogging friends! Hope your week is going good and that you are hopefully enjoying some warmer weather. Here in Nebraska has been windy with temps in the 40's and 50's. They are calling for 60 Thursday and then the snow comes in for Friday night into Saturday with the temps dropping into the lower 30's!! Snow for the first day of Spring...isn't that just lovely??? NOT!!! For as long as I can remember, we have always gotten a snowstorm on my birthday and it looks like it will happen again! Oh well, nothing I can do about it right? LOL!
On to the good stuff!!
Friday, a friend and I went to the Estate Store (Only open once a month) and I got the following things.
The strawberries will definitely go bye bye on this piece!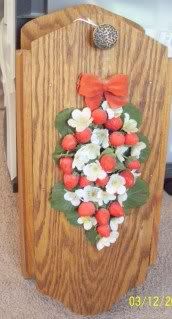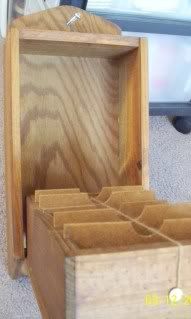 Got this ironing board for 2.00!
I love this little doll's chair!
A pewter dish, some measuring cups and a pair of old scissors to put on my sewing machine display.
And then this ugly spoon rack (might toss it)...I just wanted the spoons! That little wood piece I'll make into a pinkeep (someday)!
And then these old Butterick cross-stitch patterns.
And the last thing I got...$20.00...was this old sewing cabinet. I saw one on someone's blog before that they had painted black. I'm not sure if I will do anything to this or not.
And then after that store, we decided to go to Gordman's. More stuff!! LOL!
And then after Gordman's we decided to visit this quilting shop in town that I had never been to before but had gotten a gift certificate from my DIL. This store is very dangerous!! LOL!! I could spend a fortune in here. Look at all the fat quarters that I got, most were $1.25!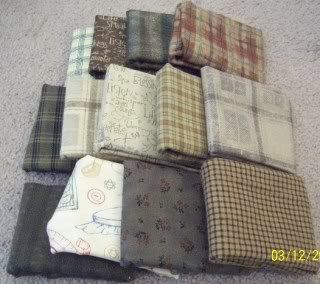 Also found some misc. stuff in there too!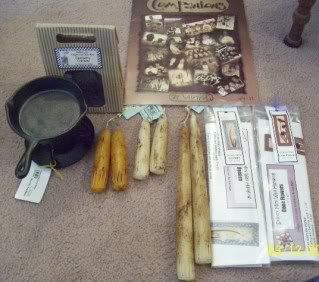 So that completes the shopping expedition...lol!!
I also managed to get some pinkeeps stitched up and ready to put on ebay. These designs are all by Jenny Hoffman at Country Rustic Primitives.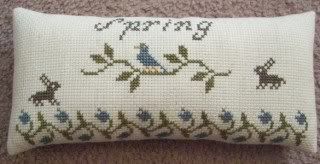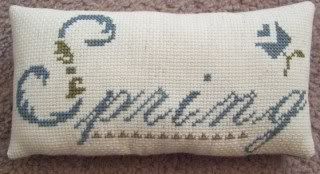 For those of you that have cats, have any of you tried that new Emery Board? It's supposed to file down your cats nails when they scratch it. Well........I bought one a couple of weeks ago....my cat's won't even touch it! Even with the catnip in it!! Darn cats anyway! They hate to have their nails clipped. We have a fighting match with Spaz when we have to do hers. You would think she would use this board so she doesn't have to go through the clipping...ha!!
Well I think that's all I have for today. I'll be having my first giveaway very soon. That is when I hit 100 posts, although as slow as I am in posting, it might be another month...lol! I'll try and do it sooner though. I'm still gathering some things for it so be on the lookout for that soon. Hope you all have a great rest of the week!!