Good afternoon all!
Well we woke to snow this morning. Mother Nature must have thought that since all of our previous snow had melted with the nice days that we have been having, that she needed to give us more. It's not much but it's there. Now it is raining!! My mom picked a good day to go to Alabama!! My sister said it was supposed to get to around 80 there!
Before I had gotten sick, I went and had my hair done. New color, new cut. I also got new glasses! I know I said I wasn't going to go dark again because it shows the gray lots faster, but I just look so washed out in lighter colored hair. I have my head slightly turned so you don't see so much of the triple chin...ha!!
Went to Goodwill yesterday and got the following items. Not much there once again!
I'll redo this for sure and the blue candle will go!! LOL!
Not sure if I will do anything to that cutting board.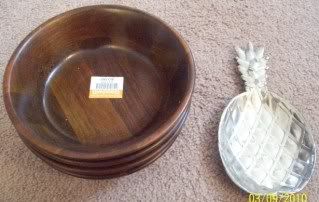 Couple of juicers for my Hoosier cabinet.
This was delivered today and I absolutely love it! It was made by Shari over at
homespunandprimitives
. I love her work!
My new stove cover.
I have been working on some more stitched candle mats and some cross stitch projects. Still also working on that huge cross stitch one also. I pick it up here and there...lol. I sold 2 candle mats just this morning on ebay..yay!! I'm thinking about setting up a selling blog. For those that have one, how is it working for you? Are you getting lots of traffic?
I can't think of anything else that is happening around here. Not too exciting. Just wish it would warm up and stay that way...I have so many makeovers to do.
Hope you all have a great Friday and an awesome weekend!!