Hello everyone! Hope your week is going well!
I received a couple of surprises in the mail recently and boy, I was surpised!! Blogging friends are the best!
First is from that Dear Sweet Linda from
Parkers Paradise
. She is such a giving person! I am so loving this pineapple light! I love the way it glows at night. Thank you so very much Linda!!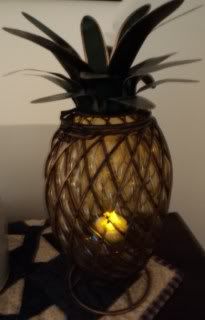 This next surprise came from Lecia over at
Farmhouse Prims
. Lecia is another giving person. This story is kind of funny....there was a pinkeep that I had made up that she liked that Becky had bought so on this last group of keeps that I made, I made Lecia one just because I knew that she liked it. So I sent it off last week. In the meantime, I guess Lecia had been thinking about me and decided to send me one of her awesome bonnets. I received it yesterday and then she received the pinkeep today. She emailed me and told that I didn't need to send her anything for the bonnet that she sent me. Well I didn't, it just so happened that we were both thinking about each other at the same time! LOL! I thought that was pretty neat. So anyway, here is the bonnet that I got from her! I'm loving it! Thanks so much my friend!!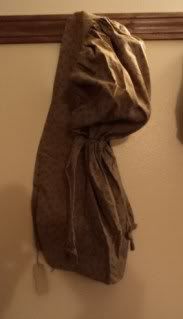 A couple of weeks ago I ordered some button salt dough bowl fillers from Michelle over
Sugar House Creations
. They came last week and I am just loving these. Thanks so much Michelle!!
I had my car all washed and cleaned up last week, but of course it rained the next day so it's a mess again. Here it is all cleaned up!
I had to take a picture of Fat Cat the other day. It's so funny seeing him sit this way.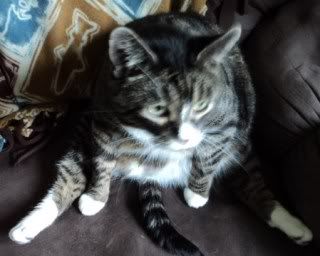 I'm putting some new stuff on ebay today or tomorrow. These little ditty bags with George and Abe on them. The ragg taggs are made by Susie at Yankee Lane Primitives.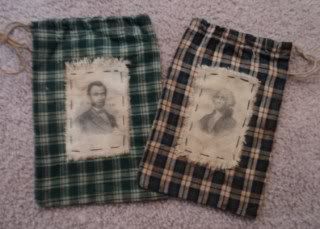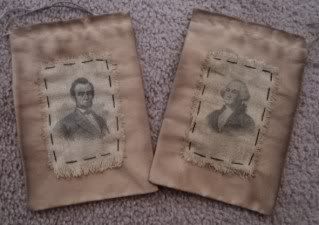 Well that's it for me! Still working on a couple of swaps. The one I need to get out of here in the next couple of days as it's due. Have a great week everyone!