Hi everyone! Hope your Sunday is going well! It's hot and hot here.
I just got done listing a bunch of new pinkeeps and candle mats on ebay. Here are some pictures of what I listed. I have also finished some other things but they are for swaps so I can't show them!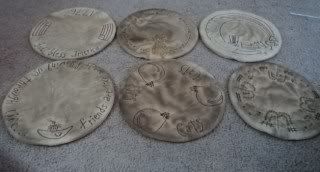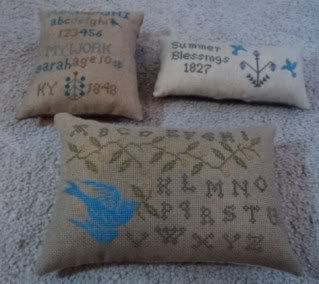 Last week, a friend and I went to this really really small town not far from me to see some friends. I don't even think this town/village is incorporated!! So our friends weren't there yet so we found this really awesome junk store. You can barely walk in this place and it is old also. Used to be some kind of a general store. I could have bought so much more!! I will be back there some day. This is what I ended up with. More frogs and they still had more at this store!! I love the picture frames. There is also a biscuit cutter and an old cigarette roller piece. And the pin cushion is so cool. I noticed I didn't get a picture of the blue banded crock that I also got.
Now for the last part of my title. My hubby tells me I'm going through a mid-life crisis...lol!
I went and got another tattoo. This is on my leg. This is a butterfly if you can't tell. Now actually, I probably would not have gotten this but is was almost free!! I only had to pay $35.00 for this $100.00 tattoo. It was a raffle type thing that was being held at the bar that I go too. And then 2 days before that, I got my nose pierced. Just a little stud is all, but I'm really liking it. I know alot of people are against that kind of thing and that's ok, but this is me.
Your opinion....crisis or normal....lol!!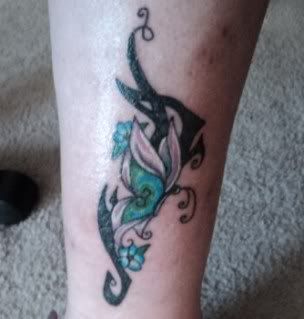 Well that's it for me...you all have a great week!!