Yes, I got the sewing machine sewing last week and made these cute "Sack A Crows". These are more grungy looking than the picture shows. The bags are tea-stained, along with the sunflowers. The bag is tied with tea-stained cheesecloth. This is a design by Becky over at
Tennessee Ridge Primitives
She is having an awesome sale right now on her epatterns but ya gotta hurry, this sale won't last much longer!!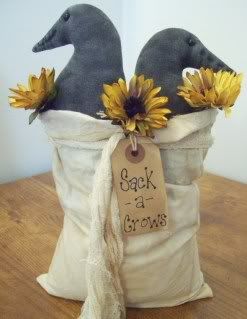 We also had a busy weekend. My daughter and grandson Landon came to visit for the weekend. Her father was in town and wanted to spend some time with Landon. Here is a recent picture of Landon....with his mohawk!!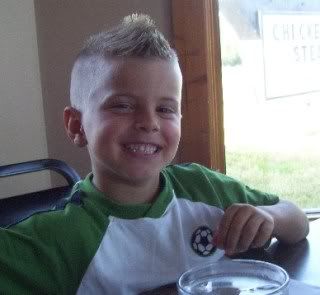 My oldest son and his wife also had a housewarming/graduation party at his new home that they just bought. I am so proud of them! His wife also just graduated from college. We had a good time. He grilled hamburgers and hot dogs.
Have a great week everyone!!