I really need someone to tell me to stop buying all this stuff until I get some of this other stuff done!! Hubby won't tell me!! Maybe one of you will, but do you think I will listen?? Probably not...lol!!
Went to a Salvation Army store in Omaha today. Have not been in one of those stores for years. Not sure why though as Omaha isn't that far away from me and the fabric store is right next door so I have a good excuse to go into town right?? LOL! I could have gotten so much more but I had to limit myself (WHAT???) because I wanted to go to the fabric store also where there was a huge sale going on! Patterns for 99 cents! Material 1/2 price! My hubby asked me if I had a good time fabricating....lol!! Yep, sure did!!
Anyway, on to the goodies that I got.
Love this Americana pillow and the picture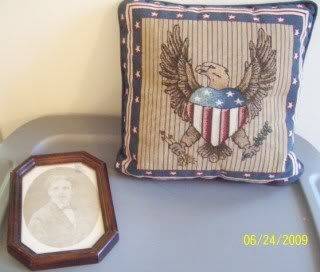 A dish soap jar that I will probably prim up just a tad more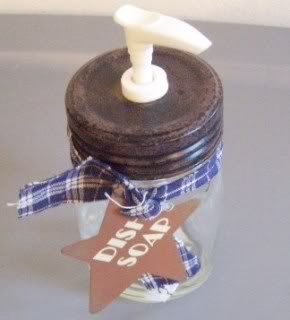 Another shelf (there were tons of different types of shelves there!)
These 2 little rolltop recipe boxes
Double cubby recipe box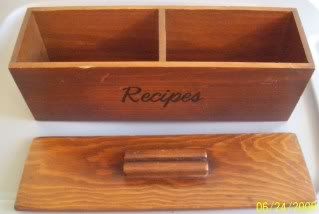 And finally this blue box which is pretty well prim already but it won't stay that color for me and then this book stand?
Well that's it for me for a couple of days. It's been really hot here, I love it!! Need to get something done in the next couple of days.