Look...I have been getting something done anyway...lol!!
This first item is a design by Becky over at
tennesseeridgeprimitives.com
It is called "Crow on Pear Make-Do. It's right about 12 inches tall and the pear is attached to a rusty ole bedspring. The pear and crow have been grunged with cinnamon and coffee stain. Stained cheesecloth is around the bottom of the pear along with a stained tag reading "Prim Pear".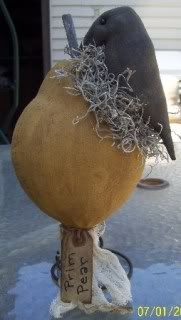 The next picture is a design by
Simplethymeprimitives.com
This is called "Americana Pineapple Door Greeter". This is about 15 inches high. I also made a smaller version which is about 8 inches high.
I will be listing both of these items on etsy tomorrow.
I also wanted to show a 4 generation picture of my mom, myself, my daughter and grandson. Notice that mom still has some bruising going on from her fall!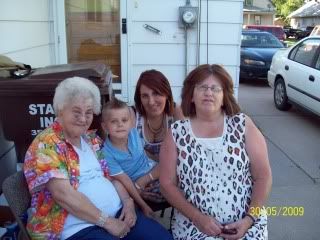 Well that's it for today. I hope everyone has a great and safe 4th of July weekend!!