Hi all, it's been a few days since I have posted anything so tonight I have a few things for you all to see!
This first picture is my very first Amish Doll named Sarah!! I was so excited to get this. My mom brought it back for me from her visit to Indiana. I so love my mamma!!
The next 2 pictures are of a re-do that I got finished today. Not sure if I will try and sell this or keep it for myself. I thought it would look neat with some old wood or metal utensils in it! I spray-painted it black, then painted a mustard color on it, then sanded it, then stained it!! I then sealed it with a matte finish. I still think it is kind of too shiny though, I think it came from the stain. Not sure exactly what this is supposed to be, one of my treasures from Goodwill. The before picture is in a prior post.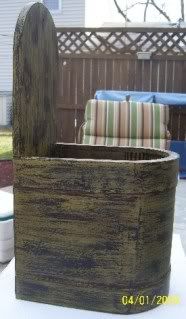 And then the rest of the pictures are of my swap present that I received from Mindy of http://thewoodshopintn.com/index.php. She did an awesome job!! I love it all!! Thanks Mindy!!
It is slowly starting to feel like Spring around here. My lilac bush is budding, my Lily's are popping their heads up out of the ground, lots of other green stuff coming up...including dandelions....eewww. Gotta pull those right away!!